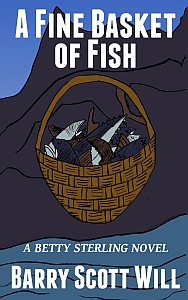 Book 1 of the Betty Sterling Novels
Betty Sterling is a common thug with a chip on his shoulder--not surprising since his name is "Beatrice"--until he's hired to do the kind of job he's never done before. When Betty gets sent to help fishermen who aren't catching any fish, he'll reel in a lot more than he bargained for. Journey to a world rich with magic, not to mention elves, ogres, and trolls.
The Betty Sterling novels introduce a new type of fantasy world, one where using magic is as common as brushing your teeth and different species jostle each other for position and power. Join Betty and his friends, Jewels the elf and Sam the ogre, as they set off in search of missing fish and find things stranger than any they have imagined.
The reviews are coming in and they are great!
"This book was a quick and satisfying read. I am looking forward to the future adventures of Betty, and friends, Jewels, and Sam."
"One of the best things about this story is that it does not get dull, there no slow spots to skim through. This is one of those books that you hate to finish because you want to know what happens next. But fear not, there's just enough there to keep you in anticipation."
"The ending does not disappoint; I finished the story with a grin on my face and eager to read more Betty Sterling adventures."
Read the first chapter for free!
Buy the book in print or buy the ebook for Nook or Kindle.